Foundation Logos and Corporate Design
Foundation Logo
The logo is the primary identification element of the Volkswagen Foundation and is of central importance for internal and external communication. It consists of the logo "Impuls" and the lettering "VolkswagenStiftung". It must always be used in its original form, i.e. in the combination of the logo and the lettering. The logo alone is only used in rare individual cases. It is then greatly enlarged and superimposed.
Guidelines for the use of the logo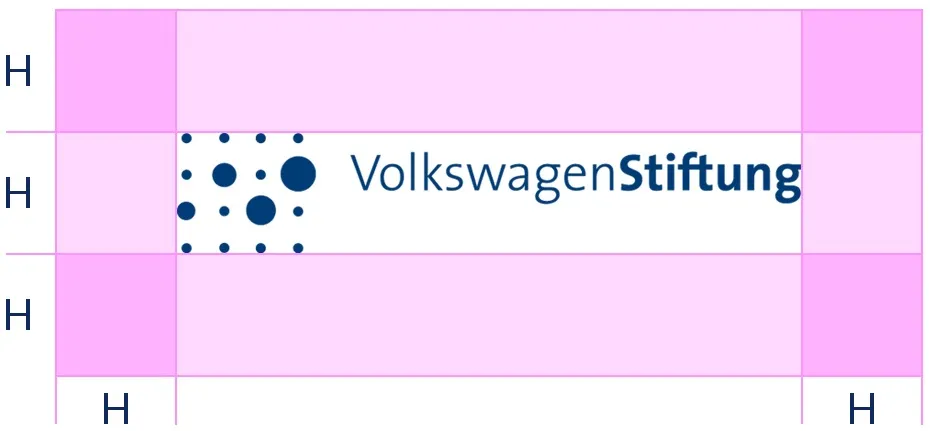 Protective zone: To ensure the optimal effect, the logo is surrounded by a protective zone. No other graphic elements or characters may be placed within this zone.

Minimum distance: The minimum distance to the nearest object or to the format edge must be at least the same as the height (H) of the image.

Positioning: The Foundation places the logo in the bottom right-hand corner of print products such as brochures or folders. For media such as letterheads, press releases or PowerPoint presentations, it is placed at the top left.
Color variants
The Volkswagen Foundation uses the logo in three different color combinations. Blue on a white background, white on a blue background and black on a white background.
Wherever possible, a colored version has priority in all media. The black version is reserved for applications that have to make do with one printing color for technical or cost reasons. In the screen area, e.g., in PowerPoint presentations or on Internet pages, the logo is preferably white on a blue background.

Logo files
Please note: The Volkswagen Foundation logo may only be used in connection with the Foundation's funding activities and not for advertising purposes. Please send the Communications team a "specimen copy" – by e-mail if you wish – showing the use of the logo to: presse(at)volkswagenstiftung.de. Feel free to contact us if you have any questions.
Corporate Design: Colors
The colors are an essential style-defining feature of the Volkswagen Foundation's corporate design. The specific color scheme serves to clearly distinguish the Volkswagen Foundation from other institutions.
The primary color is a rich dark blue, which also signifies integrity and dependability.
The two secondary colors – green and light blue – complete the color scheme of the Foundation. They create a fresh and lively impression.