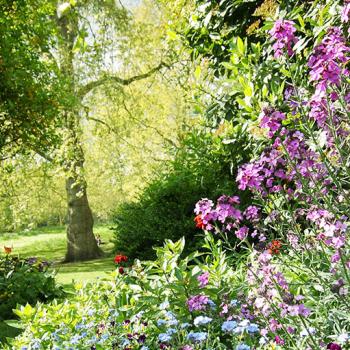 Sep. 24, 2023, 11:00 AM - Sep. 24, 2023, 02:00 PM
Herrenhausen Matinee - Paradiesisch!? - Gärten im Judentum, Christentum und Islam
Religiös inspirierte Gärten sollen die Schönheit der Schöpfung widerspiegeln. Wie das gelingt, erläutern Expert:innen am 24. September, 11 Uhr, in der Herrenhausen Matinee in Hannover.
Als Gott den Menschen geschaffen hatte, stellte er sich die Frage "Wohin mit ihm"? – in einen Garten! Beschrieben als Ort des Friedens und des Glücks, von Fülle und Unschuld, repräsentiert der Garten Eden im Judentum, Islam und Christentum die Gemeinschaft von Mensch und Gott. Er ist ein Sehnsuchtsort, ein idealer Zustand, der verloren ging, und zu dem Gläubige aller drei Religionen hoffen, am Ende der Zeiten zurückzukommen. Gärten symbolisieren das himmlische Paradies und integrieren daher gerne Elemente aus den heiligen Schriften in die Gartengestaltung. Lassen sich zum Beispiel in Gärten aus dem jüdischen Kulturbereich Symbole wie der Lebensbaum, der Davidstern oder gar Laubhütten finden? Enthalten die Gärten aus dem islamischen Kulturbereich überwiegend Pflanzen, die im Koran genannt werden? Und unterscheidet sich diese Pflanzenauswahl von Pflanzen, die in den Schriften des Christentums und damit vielleicht in Gärten des christlichen Kulturbereichs zu entdecken sind? Die Herrenhausen Matinee 2023 ergründet, wie religiös inspirierte Gärten versuchen, die Schönheit der Schöpfung widerzuspiegeln und die göttliche Ordnung auf Erden abzubilden.
Impulsvorträge und Podiumsgespräch
Do you have questions about our public events? Check out our FAQ!
FAQ public events

Where do the Volkswagen Foundation events take place?

The events take place at the Xplanatorium Herrenhausen Palace, Herrenhäuser Straße 5, 30419 Hanover. Access by public transport: Üstra lines 4 and 5, stop 'Herrenhäuser Gärten'

How long dothe events last?

Evening events like panel discussions last for about 100 - 120 minutes.

How much does admission to Volkswagen Foundation events cost?

Admission to Volkswagen Foundation events is free of charge.

Is the venue barrier-free?

The Xplanatorium Herrenhausen is barrier-free.

Are the panel discussions recorded?

Many of the events are broadcasted live and/or recorded. Recordings and proceedings of past events can be found in our newsroom and on our YouTube channel.

Are the events broadcast live?

Some of our events are also broadcast live. To access, visit the respective event page on our website.

I lost or forgot something at an event at the Xplanatorium, whom can I contact?

Is there a cloakroom?

At events held at the Xplanatorium Herrenhausen, you are welcome to use our cloakroom free of charge.

When does admission to events start?

The doors will open 60 minutes before the event begins.

Who can I contact if I have further questions?

If you have any questions, you can reach our hotline from Mon-Fri 8 a.m. to 4 p.m. at 0511/8381-200.
Bei Fragen wenden Sie sich gerne an