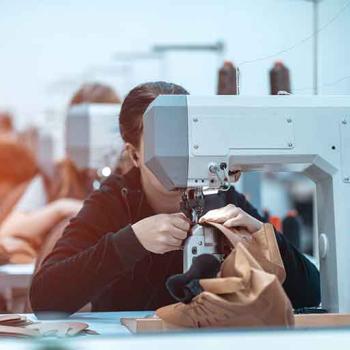 Oct. 14, 2023, 11:00 AM - Oct. 14, 2023, 01:00 PM
Nachhaltig, sozial, fair? Wirtschaft und Menschenrechte im 21. Jahrhundert
Immer wieder werden Menschenrechte zugunsten wirtschaftlicher Interessen missachtet. Welcher Kurswechsel ist nötig, um das Weltwirtschaftssystem fairer zu gestalten? Darüber diskutieren Expert:innen bei der Abschlussveranstaltung der HANNAH ARENDT TAGE am 14. Oktober in Hannover.
Laut den 2011 verabschiedeten UN-Leitprinzipien für Wirtschaft und Menschenrechte haben wirtschaftliche Akteur:innen weltweit eine Verantwortung zur Achtung der Menschenrechte. Deutschland setzt diese Prinzipien mit dem Nationalen Aktionsplan Wirtschaft und Menschenrechte (NAP) sowie dem neuen Lieferkettensorgfaltspflichtengesetz (LkSG) um und will so auf faire weltweite Wettbewerbsbedingungen hinwirken.
Es scheint, als könne unsere auf stetiges Wachstum angelegte Wirtschaftsweise dies nicht gewährleisten. Eher führt sie zu Umweltzerstörung und Ungleichverteilung und gefährdet damit den Wohlstand kommender Generationen. Immer wieder werden Menschenrechte zugunsten wirtschaftlicher Interessen vernachlässigt.
Kann eine Transformation der Wirtschaft zu einer Green Economy, die weiterhin auf Wachstumsleistung setzt, ein Weg zu einem fairen, nachhaltigen und sozialen Weltwirtschaftssystem sein? Oder braucht es mit Blick auf begrenzte Ressourcen stattdessen einen radikalen Verzicht auf Konsum und Produktion? Wie könnte dies gelingen, ohne eine Gefährdung des Wohlfahrtsstaates?
In Zusammenarbeit mit der Landeshauptstadt Hannover
Bitte melden Sie sich ab 11. September 2023 unter hat@hannover-stadt.de zu dieser Veranstaltung an.
Do you have questions about our public events? Check out our FAQ!
FAQ public events

Where do the Volkswagen Foundation events take place?

The events take place at the Xplanatorium Herrenhausen Palace, Herrenhäuser Straße 5, 30419 Hanover. Access by public transport: Üstra lines 4 and 5, stop 'Herrenhäuser Gärten'

How long dothe events last?

Evening events like panel discussions last for about 100 - 120 minutes.

How much does admission to Volkswagen Foundation events cost?

Admission to Volkswagen Foundation events is free of charge.

Is the venue barrier-free?

The Xplanatorium Herrenhausen is barrier-free.

Are the panel discussions recorded?

Many of the events are broadcasted live and/or recorded. Recordings and proceedings of past events can be found in our newsroom and on our YouTube channel.

Are the events broadcast live?

Some of our events are also broadcast live. To access, visit the respective event page on our website.

I lost or forgot something at an event at the Xplanatorium, whom can I contact?

Is there a cloakroom?

At events held at the Xplanatorium Herrenhausen, you are welcome to use our cloakroom free of charge.

When does admission to events start?

The doors will open 60 minutes before the event begins.

Who can I contact if I have further questions?

If you have any questions, you can reach our hotline from Mon-Fri 8 a.m. to 4 p.m. at 0511/8381-200.
Bei Fragen wenden Sie sich gern an: